Research

Two Rivers Chophouse rib eyes were studied against USDA Choice ribeye in a taste-test conducted by the Beef Checkoff Program with 84 beef and steak consumers,
Each of the Two Rivers Chophouse rib eyes outperformed USDA Choice ribeye for overall liking.
Two Rivers ribeye were also rated significantly higher on quality, satisfaction, tenderness, juiciness, color and flavor.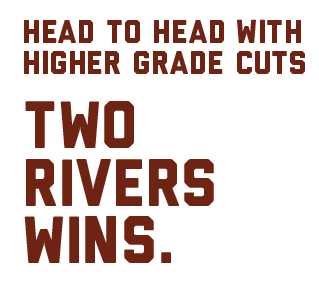 Why Two Rivers?

Better tasting meat
Lower market cost
Elevate quality on the plate without elevating cost
All natural process
Great cook color
Holds and stays juicy
Consistent quality
Cost Savings

Two Rivers vs. Choice
The following illustrates cost savings based on purchasing 10 cases (700 lbs) of Two Rivers product per week for one year.

Ribeye
Two Rivers spend

$191,828

Savings

$69,524

Total Saved in One Year
Strip
Two Rivers spend

$148,148

Savings

$65,156

Total Saved in One Year
Tenderloin
Two Rivers spend

$348,348

Savings

$45,592

Total Saved in One Year
Our Difference